Habitat restoration for Southern Appalachian brook trout in 5 Cherokee National Forest, TN streams
| | |
| --- | --- |
| Project Start Date | |
| Project Leader | |
| Organization | |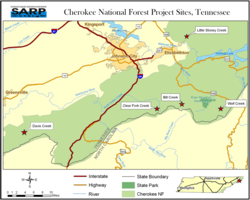 Drought and stressed habitat conditions exacerbated natural competition for food and space between brook trout and rainbow trout in several creeks in the Cherokee National Forest. Both species, popular with anglers, were declining due to drought in recent years. By improving or restoring habitats, and removing rainbow trout from certain areas, both species can more easily thrive in the forest. (Photo: Cherokee National Forest Project Sites, TN)
Partner(s): Tennessee Wildlife Resources Agency US Forest Service
Description of Site:
Four creeks in the Cherokee National Forest: Bill Creek, Little Stony Creek, Clear Fork Creek, Davis Creek, and Wolf Creek.

Additional work is planned in 2009 on Long Branch.
Problem:
Dense thickets of rhododendron form dense tangles that block sunlight and prevent access to the streams.
Structure and pools were lacking in many areas. Drought conditions reduced the value of existing habitat, reducing size of existing populations. Rainbow
trout, larger in size, were impacting brook trout populations.
Rainbow trout were removed from Wolf Creek.
Strategy:
Thin rhododendron along banks of Bill Creek, Little Stony Creek, Clear Fork Creek, and Wolf Creek.
Built habitat structures to create pools. Add wood cover favored by most trout species. Build a barrier to separate the two populations in the same stream.
Remove rainbow trout by backpack electroshocking from certain areas of streams.
Use community volunteers (anglers and Boy Scouts) to encourage awareness and responsibility for the trout populations and trout habitat.
Monitoring has begun to determine success of these efforts.
Contact Info
Maricia Carter
Related Resources & Documents
Rhododendrons were thinned to improve access.
Associated Locations
| Town | zip code | county | state | congressional dist |
| --- | --- | --- | --- | --- |
Barriers
| Name of barrier | Latitude | Longitude | FONS ID | FIS Project ID | FWS Acc. # |
| --- | --- | --- | --- | --- | --- |