Find Your Niche
The Eastern Brook Trout Joint Venture is successful because people, organizations, businesses, foundations, and scientists work together to protect, restore and enhance brook trout populations and their habitat throughout their native range. This is about handing off a vibrant gift, the brook trout, to future generations.
Call to Action for brook trout restoration: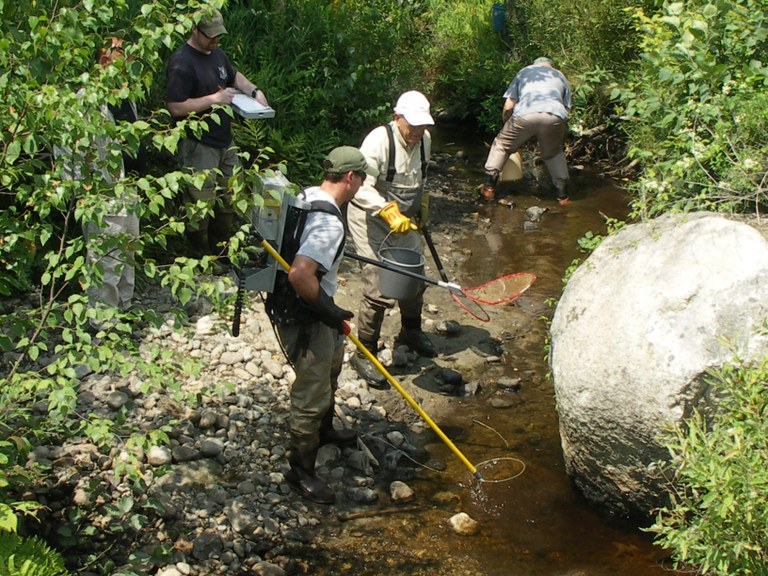 The individual's role:
Be the eyes and ears: Be observant of streams and changes. Sometimes these changes can be subtle, like changes in color. Sometimes they can be overt like channelization, damming and poor land management. Contact your state wildlife agency when you see something that doesn't look right. Being the eyes and ears for the professionals extends and focuses the outreach and education efforts to the right audience.
Get involved in land use decisions: Planning boards, conservation districts, townships, counties and most public land management agencies ask for public input. Be there and ask the question "How does this affect brook trout?" Provide support for brook trout and efforts to improve brook trout habitat.
Educate yourself: The Joint Venture website contains lots of practical, usable information about brook trout and brook trout conservation. Educate yourself, then use your education to inform, influence and instill brook trout conservation into decisions involving brook trout or its habitat.
Donate your time to do stream work: Get involved with monitoring, restoration, watershed planning or resource boards. A list of state contacts can be seen here.
The conservation organization's role:
Support Brook Trout: Brook trout are a notable keystone species because they indicate other conservation needs are being met.
Join the Eastern Brook Trout Joint Venture: The structure of the Joint Venture is designed to allow organizations to participate at the most appropriate level -- from range-wide to project level. Find the niche that best fits your organization.
Read the Eastern Brook Trout Conservation Strategy: Many organizations share conservation goals with the brook trout. Knowing how the Joint Venture works at all levels will provide many partnering opportunities for mutual benefits between non-traditional partners.
The watershed association's role:
Determine if your watershed is within the historical brook trout range: Contact your state wildlife agency to determine if brook trout are present, or historically were present, within the boundaries of your watershed. If so, then the ultimate success of the organization's goals might be intact populations of wild brook trout.
Read the Brook Trout Conservation Strategy: There may be common interests between your watershed goals and the goals of the Joint Venture. In fact, your project could receive funding and resources from the Joint Venture or its partners. Work with your state agencies to take advantage of the resources available.
Educate the membership: The motivation and momentum of watershed activity is the membership. The Joint Venture has several educational offerings at the web site available at no cost, including presentation materials.
The business' role:
Implement brook trout friendly policies: Corporate policies that are brook trout habitat-friendly can make an enormous contribution to success of the restoration of brook trout, and may qualify for tax incentives. Depending on your activity, conscientious business planning can substantially minimize impact and improve brook trout habitat.
Contribute your expertise or resources: Businesses have many varied and valuable assets and specialties that could support this program. From public relations talent to equipment rental, conservation easements to corporate volunteer programs, business contributions are needed and highly valued.
Donate matching funds: Many grants and federal programs need local private match funds. Business contributions can be leveraged by as much as 900% for certain programs used with the restoration activities surrounding brook trout. Consider donating to this cause, and use the donation for tax reduction purposes.

All individuals, organizations, associations and businesses have the opportunity to make a choice and help this movement meet the vision of healthy, fishable brook trout populations throughout their historical range.

Here are a few easy ways to take action and get involved with the Easter Brook Trout Joint Venture, a Fish Habitat Partner:

Stay informed
Get email updates on funding, projects and action taken under the EBTJV Conservation Strategy.
Sign up now.

Join the Partner Coalition
As a Partner Coalition member, your conservation agency or organization will be listed on our web site with a link to your web site. Sign the MOU and Join now.