A few FAQ's on Small Grant RFP
Looking for small grant funding?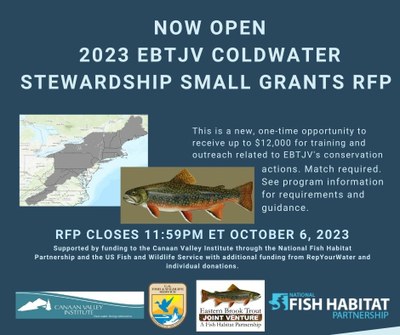 NEW in 2023 - a small grant RFP focused on training and outreach related to EBTJV's conservation actions. RFP closes October 6, 2023.
Please note that this RFP is intended to help expand skills and knowledge of priority actions that conserve brook trout.
A few FAQ's
Can we fund signage?
Due to the funding source, funds and matching funds cannot be used for construction (we would ask, are you turning dirt?). However, if you are nailing a sign to an existing post, that is OK! And, you may apply for funds to design something like a kiosk, but not to install one.
For construction projects, our habitat project RFP will open in November.
Can we apply if we don't have match - including nonfederal  match - in hand?
While match is a requirement, we anticipate that many applicants will not have all nonfederal match in hand at the time of applying. Please indicate the status of your match in your budget table and application; our review team will consider applications with pending or anticipated match.
Do we need to include a map with the watersheds of focus and/or EBTJV catchment code for brook trout status?
Maps and EBTJV catchment code are not required for this RFP (they are required for our traditional habitat project funding).  This is because your geographic area of interest may be greater than one or two catchments. Please be sure to emphasize in your application how your outreach or training primarily focuses on wild brook trout conservation.

However, you may include any maps as separate uploads in the Google Form.  If you would like to download our 2016 geographic data to create your own maps, use the geodatabase icon on the top right of this online mapping viewer: https://rpccr.ebtjv.de/  Please note that we are in the process of updating our catchment layer, but the new (post 2016) data are not available to the public yet.
Do you accept letters of support?
Yes, although these are not a requirement, they always help.  You may upload additional files in the google form.