See our videos from the recent EBTJV annual meeting!
in April 2022 EBTJV had a membership meeting at NCTC. Videos are now on YouTube.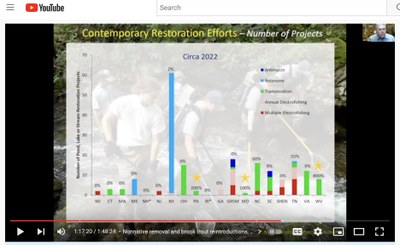 In April, EBTJV had its first annual meeting in three years, and its first ever hybrid, in-person/virtual event at the National Conservation Training Center in Shepherdstown, WV.  The main focus was science-based management for protecting, restoring, and enhancing wild brook trout populations. Check out the links below for videos from the conference!
Most of these presentations are available on our new
YouTube playlist
. We are adding content like a new
brook trout restoration page
to our website.  Thanks again to everyone who participated, to the staff from Canaan Valley Institute who assisted with the flow for the hybrid Zoom format, and to NCTC for the beautiful space, delicious food, and stellar AV support!
Document Actions