Alarka Headwaters habitat connectvity and sediment reduction project
Alarka Headwaters Connectivity Project
| | |
| --- | --- |
| Project Start Date | |
| Project Leader | |
| Organization | |
The long-term viability of native Eastern Brook Trout in the southern Appalachian mountains is threatened primarily by three stressors: 1) loss of connectivity between fish populations for reproduction and gene flow and between fish and their available habitat; 2) sedimentation impacts on fish health and habitat; and 3) loss of cold waters due to climate change and high elevation land loss/degradation. This project directly addresses the first two stressors by replacing a double-piped culverted stream crossing on National Forest System Road 86 (FSR86) with a bottomless arch pipe (AOP) over Alarka Creek and adjusting the elevation and drainage features on the graveled road approaches to alleviate existing storm sediment inputs. This project is Phase I of a three-phased connectivity and sediment reduction project, with Phases II and III in years two – four involving replacement of two fords with AOP structures, graveled road improvements that reduce sedimentation, and a spruce bog restoration. All phases of this project occur within a high elevation (~4,000 feet) protected area in 100% ownership by the Nantahala National Forest, which indirectly addresses the third stressor. This work is needed to enhance genetic diversification and create a more robust, resilient and thriving group of brook trout populations better able to withstand a warming climate. It is a project that supports goals of the State of NC's Wildlife Habitat Action Plan, Trout Management Plan and the Pisgah-Nantahala National Forest's Land Resources Management Plan.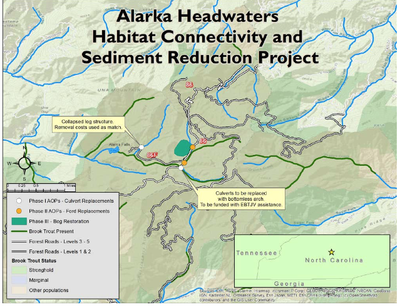 This multi-phase project by Trout Unlimited will increase connectivity within an allopatric brook trout catchment and maintain an existing high quality wild brook trout population. TU and partners will replace a double-barreled corrugated metal culvert with a bottomless arch culvert that will span 1.5 bankful width. This is the part to be funded with the NFHAP/FWS award, and will reconnect 4,500 feet of coldwater habitat for movement by brook trout and other aquatic organisms.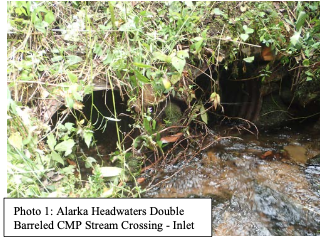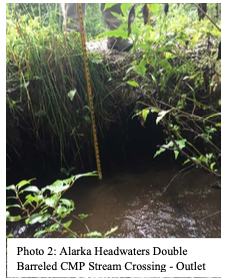 Other parts of the project include replacing another barrier with a ford, replacing two additional fords with improved structures, and restoring a spruce bog wetland on one of the tributaries.  Each project will also improve dirt and gravel roads to reduce the only anthropogenic sediment source in the project area.
https://easternbrooktrout.org/funding-opportunities/2021-ebtjv-fws-nfhp-project-funding-opportunity/upload-your-2021-project-application-packet-here/alarka-headwaters-habitat-connectivity-and-sediment-reduction-project/alarka-headwaters-project-application/at_download/file
Climate Change Impacts, Geographic Isolation
Rivers and Streams
Landscape-level Planning
Aquatics
Conservation Design
Aquatic Resources, Climate Change Science
Fish
Associated Locations
| Town | zip code | county | state | congressional dist |
| --- | --- | --- | --- | --- |
Barriers
| Name of barrier | Latitude | Longitude | FONS ID | FIS Project ID | FWS Acc. # |
| --- | --- | --- | --- | --- | --- |