Karli Rogers, biologist, on the draw of brook trout
This item first appeared as an Instagram post in spring of 2022.  See the original here.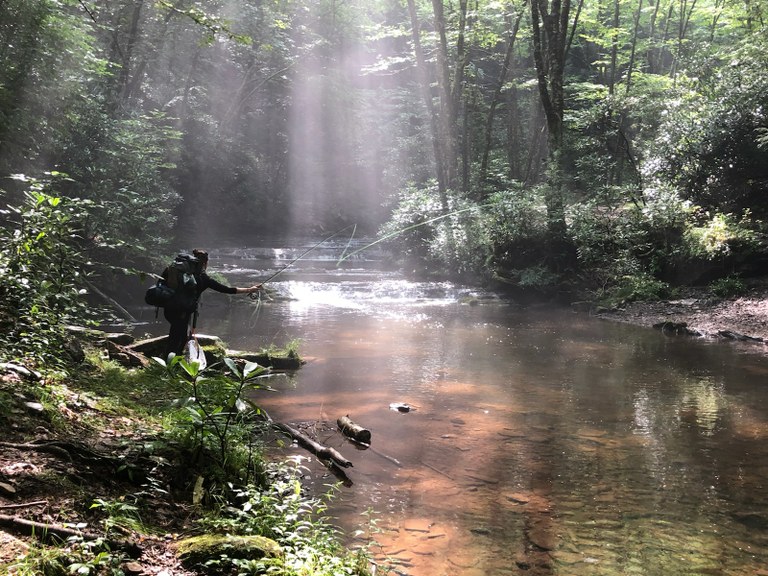 Chasing #brooktrout can transport you pretty far from daily life. If you're lucky, you might even end up like this, bathed in a metaphorical waterfall of misty sunlight, listening to the soft purl of an actual waterfall, in a cool forest with your boots in a cold stream, fly rod in your hand.

Karli Rogers, pictured here mid-cast on Seneca Creek WV, has this to offer:

"As someone who grew up in an urban setting without a wild brook trout stream in sight, it's always a treat to visit places where they naturally thrive. Whether I'm exploring one of these streams to catch or film brook trout, I find myself becoming completely immersed by my surroundings. I'm able to gather my thoughts, lower my anxiety, and learn something new about the stream I'm standing in and the life it supports."

In fact, understanding the environment means so much to her that Karli made a career out of it. Karli is a fish biologist and was photographed her along Seneca Creek by Dave Kazyak, a research ecologist. Both do research that supports decision-making for multiple species, including brook trout, at the Eastern Ecological Science Center in Kearneysville, WV.

Eastern Brook Trout Joint Venture is grateful to have expert input from scientists. We work collaboratively with partners at multiple geographic and jurisdictional scales to reverse the declining trend for wild brook trout and make sure future generations can experience brook trout and its beautiful habitats.