The Story of Wild Brook Trout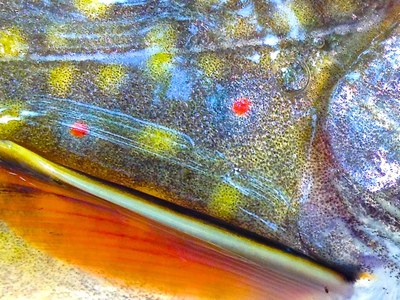 The wild Brook Trout is an American symbol of persistence, adaptability, and the pristine wilderness that covered North America prior to European settlement. It is the only native trout that inhabits the cold, clear streams of much of the eastern United States, and is prized by anglers. It's truly a heritage species.
Brook trout are resilient.  The have thrived in the cold waters of the Appalachian mountains for several million years, and longer in areas that glaciers did not touch.  In the deep in the mountain hollows protected by towering oak and pine and impenetrable rhododendron thickets, the southern Appalachian brook trout - known to be genetically distinct from its northern counterparts, is found in the tiniest of headwater tributaries, in what anglers call 'small water'.  Farther north, brook trout swim in ponds, lakes, and coastal rivers, and they take on different sizes and colors in these different habitats. Scientists and managers are constantly unfolding more facets of its life history, that is - how it grows and reproduces, where it lives, what it eats, and  what strategies it uses to stay alive in diverse habitats.  In Maine, biologists recently discovered brook trout spawning under the cover of lake ice.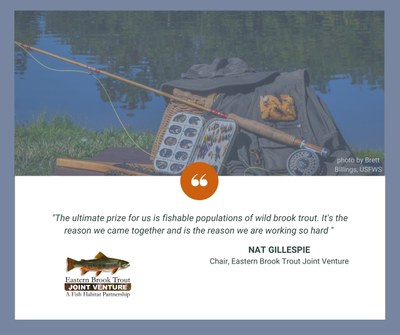 Unfortunately, detrimental land and water use practices have taken a toll on our landscape, greatly diminishing the presence of wild Brook Trout throughout its native range.  Most wild Brook Trout are relegated to headwater streams, where forest cover is still prevalent and temperatures are still cool enough. Unable to thrive in poor water quality or degraded habitats, wild Brook Trout are excellent indicators of clean water and healthy aquatic systems. Therefore the decline of wild Brook Trout throughout its historic eastern range should serve as a warning about the state of our waters.
"The ultimate prize for us is fishable populations of wild brook trout. It's the reason we came together and is the reason we are working so hard". - Nat Gillespie, EBTJV Chair.

We at Eastern Brook Trout Joint Venture want to ensure that our children's grandchildren will have the excitement of catching a wild brook trout. 



Follow to read more about brook trout biology.
Are you a landowner? See how you can be a great steward of the rivers and streams.
Request a copy of our brochure on brook trout and healthy waters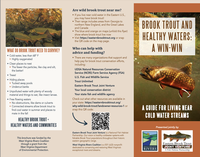 Do a brook trout paint-by-numbers, from the Pennsylvania Parks and Forest Foundation
Are you a landowner or caretaker of land near a river or stream? Are you looking for advice, technical assistance, or funding to help protect or improve conditions for wild brook trout, or water quality in general? Many programs exist that can bring information and/or funding to you! We've compiled a list of national programs, and have also provided a searchable database to resources specific to the states in the native brook trout range.
The wild Brook Trout is an iconic symbol of pristine waters as it's only found in the healthiest streams, rivers, lakes and ponds. Unfortunately, poor land and water use practices are severely affecting water quality and quantity and as a result, wild Brook Trout populations are declining throughout its native range in the eastern portion of the U.S. However, the good news is the plight of wild Brook Trout is reversible. By working collaboratively we can ensure there is enough clean water to conserve wild Brook Trout, sustain outdoor recreation, generate economic vitality, and provide inherent values for generations to come.
Life History and Habitat Needs of brook trout
Brook Trout populations have severely declined across their native range due to a multitude of threats. Brook Trout are indicators of cold clean water and their decline is the result of degraded habitat and invasive species.