EBTJV's 2021 habitat projects to connect over 6 stream miles, reduce sedimentation, improve brook trout resiliency to climate change
The US Fish and Wildlife Service has awarded $173,333 in funding for EBTJV partners through the National Fish Habitat Partnership Program in 2021. These projects bring an additional $669,887 in partner contributions for a partner:NFHAP ratio of 3.9:1.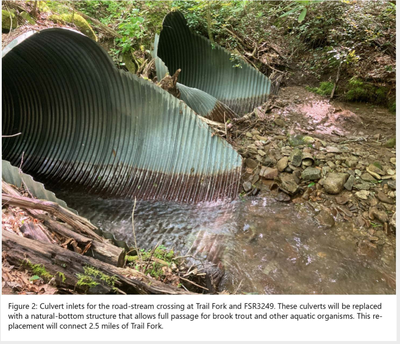 culvert to be replaced on Trail Fork
The EBTJV received a competitive slate of applications for our 2021 funding cycle through the National Fish Habitat Partnership (NFHAP) and Fish and Wildlife Service (FWS). The need is clear: the proposed brook trout habitat projects requested over $700,000 from NFHAP/FWS, and totaled over $3,000,000 with partner funds included, reflecting the tremendous efforts underway across the Eastern US to reconnect fragmented stream reaches, reduce sedimentation, and restore in-stream and riparian habitat. Thank you!
We were awarded $173,333 for three projects in North Carolina, Tennessee, and Maine. These projects bring an additional $669,887 in partner contributions for a partner:NFHAP ratio of 3.9:1. We were awarded an additional $85,000 for operational support. The EBTJV relies on time contributed by our Steering Committee members, and these operational funds are critical for coordination. We thank NFHAP and FWS for continuing to help us advance our mission.

In all, the FWS and NFHAP funded 85 successful projects across all Fish Habitat Partnerships.
Congratulations to the successful applicants and their partners! Follow here for more information on the EBTJV projects. All three of these are culvert replacement projects, which have multiple benefits for the environment and people: improved and properly-sized structures with natural bottoms allow movement of aquatic organisms like brook trout, allow better passage of water during storm events - which in turn lowers maintenance and repair costs to municipalities - and results in reduced scour, erosion, and sedimentation.  In short, proper structures allow the stream to move more like a natural stream. 
But on top of these benefits, removal of a partial or full barrier to movement is one of the best approaches to helping brook trout populations persist in a changing climate. How? Because when there are no barriers, brook trout of all sizes are free to move along the stream corridor and between mainstem and headwater reaches to find pockets of cooler water, refuge from predation, or suitable spawning locations.  And when brook trout populations remain connected, their genetic health is improved. Importantly, if there are any genes that are adaptive to living in warmer temperatures, that information can be shared across the landscape instead of being isolated and possibly becoming lost.  Connection is about so much more than physical movement - it opens the door to an array of choices and opportunities for native brook trout, including those that help them hang on in a warmer world.

This project in Swain County, NC directly addresses two major stressors of brook trout in the Southern Appalachians by replacing a double-piped culvert stream crossing on a National Forest System Road with a bottomless arch pipe (AOP) over Alarka Creek and adjusting the elevation and drainage features on the graveled road approaches to alleviate existing storm sediment inputs. This project will reconnect 0.8 miles of habitat.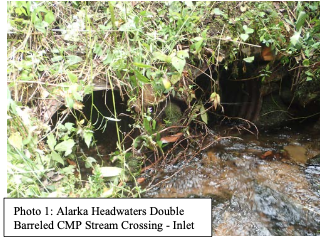 This project helps conserve brook trout by restoring a population of native brook trout in a catchment where they had previously been extirpated. The new population will increase brook trout distribution within the French Broad River watershed by 30% (2.5 miles). It is being established with native brook trout from an adjacent catchment with comparatively unique genotypes, thus will help conserve these as well. The project also removes an aquatic passage obstruction and rehabilitates the affected section of stream, increasing connectivity, providing more suitable habitat, and allowing for the free passage of large wood and sediment.
This project will rectify the final barrier to native fish passage on Henderson Brook, connecting an additional 3.3 miles of existing Brook Trout habitat to the West Branch, and opening access for Atlantic salmon. Removal of the existing culvert, and replacement with an open bottom bridge and stream restoration, will lead to improved habitat conditions, reduced stream sedimentation, reduced flooding and improved recreation opportunities.